February and March proved to be another 'mixed bag' for Ipswich Locksmiths Neighbourhood Locks, and kept us constantly busy with the usual lock changes after break-ins, and where Customers had moved home.

I recently read statistics that show that an alarmingly high percentage of those that move home, have not changed their locks, although the chances are that neighbours, friends, family members, gardeners, cleaners, tradesmen etc., have keys to the property from the previous occupier. With such a serious potential security risk, it is no wonder that both The Home Office and Neighbourhood Watch recommend that the locks are changed when moving home.

Neighbourhood Locks the local Ipswich Locksmiths have also seen a marked increase in the amount of Customers requesting us to fit Digital locks to doors. These are great for Home Offices, and Workshops etc. and allow access to be gained once a number code is punched in. It saves having to worry about using keys where the door is used frequently. The code can be easily changed on most, and some also have a 'pass through' feature, which allows the door to be left unlocked which is great if you are passing through the door of your Home Office regularly, but are still close by to it. Most also have a key override, for emergencies.

I was also asked to have a look at a lock that didn't work properly. When I arrived onsite, I was amazed to find that it was a 'latch type lock' made by Chubb in 1896, bearing their crest from their days at Queen Victoria Street. I suggested that I restore it to it's former glory.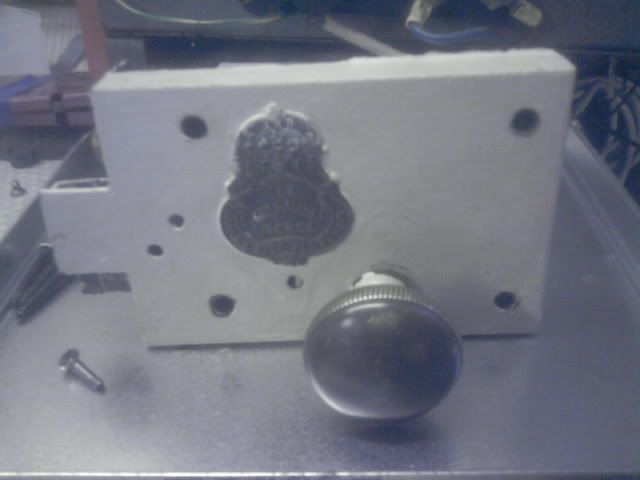 Once I'd stripped the lock down, it was apparent that the spindle had broken, which was understandable as it was quite a complex affair, varying in width several times along it's length. From the research I've done on this lock, it would appear that the lock was modified at some point in it's history, to operate in a similar way to a modern 'Thumbturn'. In order to get the lock to function again correctly, I fabricated a new spindle, and generally 'tidied' up the levers and mechanism. I must admit that I felt a sense of awe while working on the lock, realising that someone had put it together by hand over 100 years previously! The lock is now back in it's original location, and I hope that it will last a further 100 years.
Neighbourhood
Locks
visited the Locksmith's Exhibiton in Nottingham, where we met up with other
Locksmith
Colleagues, to see the latest developments in all things lock-related. It was good to meet
Locksmith
Legends such as Chris Belcher & Paul Souber who are always at the cutting edge of new developments too. The Stands of vintage
locks
was of particular interest to me though, with
locks
from Prisons two or three hundred years old on display. I spent much more time talking to the two gentlemen there, than I had realised, but Heritage
Locks
is an area that fascinates me a great deal. The amount of satisfaction I get from making something work again, is immense. I also had a quick chat with World Champion Key Impressioner Jos Weyers, who was over from Holland for the Exhibition. Jos had given me a valuable insight into the technique of Key Impressioning last year in Covent Garden. 'Key Impressioning' is the art of taking a blank key and hand filing it to make it work in a lock, only by looking at, and interpreting the marks left on the key by the lock. Sadly, it is a dying skill now. The World Championship contest lasts and hour and a half, giving a good length of time for the top Key Impressioners in the world to get their
locks
open. Jos holds a World Record for Key Impressioning at just 67 seconds! My best time is currently 81 seconds, so I really need to try harder!
Until next time... Stay Safe
~ Simon, your local Ipswich
Locksmith