June was so busy, that it came and went before we had time to update Ipswich Locksmiths Neighbourhood Locks, Blog!
The range of jobs we are being asked to undertake lately, is extremely varied, which always makes for an interesting time. Many of our Clients have called us in, in an attempt to solve problems that previous 'Locksmiths' have attempted, and been unable to do, and we have built up a reputation for succeeding, where others have failed to either do the job properly, or at all. One had been unable to open a window for the last few years, with two others having looked at it, and been unable to resolve the problem. Neighbourhood Locks, the local Ipswich Locksmith, opened the jammed window non-destructively, within three minutes, and replaced the faulty mechanism afterwards. As Ipswich's only Member of The Institute of Certified Locksmiths, we will always use 'Non-destructive Entry' as our first choice, rather than simply destroying the lock or mechanism, and charging for a new one, as many National Companies do. Always make sure the Locksmith you call, is either a member of 'The Institute of Certified Locksmiths', or the 'Master Locksmiths Association', as these are the only two recoginised Trade Associations, who vet members strictly, both for security, and for competance.
We were also asked to gain entry to two different locked garages, where keys had been lost. One Client was most surprised that Ipswich Locksmiths Neighbourhood Locks had the door open Non-destructively, within a few minutes. We then proceeded to fit a new 'British Standard' 5-Lever Deadlock to the building, to ensure that it was Insurance Compliant.
Neighbourhood Locks were also asked to Gain Entry to a Sweet Shop in the centre of Ipswich, after the lock had been damaged in what may have been an attempted break-in. Access was gained very swiftly, and the damaged lock replaced, which was quite a challenge, and did take a bit longer than normal, as it was 'Father's Day', with a constant flow of Customers in and out of the shop!
The following day, we received a call to an Industrial Estate, where a member of Staff had gone to lock the Unit up, only to find that the locking mechanism had failed completely. They had been given our number by 'Talking Pages' as having a 'Five-Star' rating, and after a short period on-site, we had ensured that the Unit was secure once again.
Ipswich Locksmiths Neighbourhood Locks, were also asked to make up a key to an antique Grandfather Clock, and to open, repair and supply keys for an antique writing desk. This sort of work can be amongst the most interesting and satisfying of all to an old-school Locksmith, as it really puts the 'Smithing' side to the test. The desk lock was opened easily, and then removed, and later stripped down, cleaned, and rebuilt. It is a 'pin' lock, which means that the key would be 'piped' (or have a hole in the end which lines up on the pin in the lock). The pin itself had fallen out, and this, and other small problems had all contributed to the locks failure to work correctly. Once the lock had been rebuilt, Ipswich Locksmiths Neighbourhood Locks, then hand-made a number of piped keys to fit. This is very specialised work, which many cannot undertake these days, although we enjoy keeping the true art of Locksmithing alive.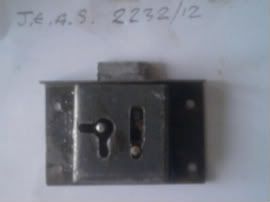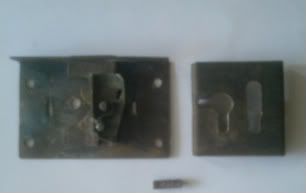 Local Ipswich Locksmiths Neighbourhood Locks, have also had the usual 'Lockouts' and failed UPVc Door Mechanisms, and are pleased to report that generally Clients are calling us now at the first signs of failure, including 'stiff operation' and 'drooping handles' rather than waiting until the mechanism has failed completely, so locking them out.
Many have told us that they specifically called us, after reading the
UPVc Section of our Web-site
. These mechanisms do tend to fail with extreme changes in the temperature, as the heat, and cold cause the door to expand and contract.
If you have any lock-related problems, please feel free to call us on 01473 622461.
Until next time, Stay Safe! Simon.